Danish supermarket chain drops
fabric softener, chlorine and Microban
<![if !vml]>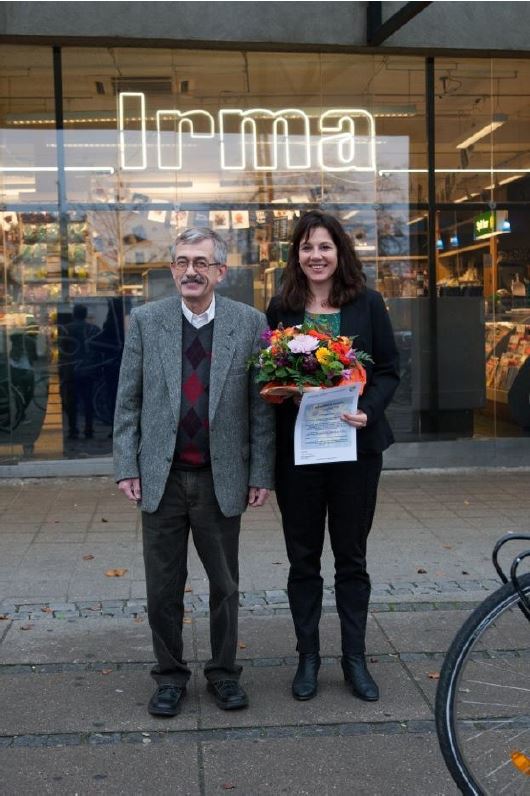 <![endif]>
The Danish MCS organization MCS Foreningen honored the Irma supermarket chain with a bouquet to thank them for stopping the sale of fabric softener. The Irma stores had already taken products containing chlorine and Microban (triclosan) off their shelves.
Keywords: fabric softener, chlorine, Microban, triclosan, pesticide, Denmark, stop, ban, sales
Villy S¿rensen from MCS Foreningen handed the bouquet to Signe Frese in front of the Irma flagship store in the center of Copenhagen. Frese is the chain's director of environmental compliance and said on the occasion that they had chosen to remove the products because they are unnecessary and damaging to the environment. She was glad that this can help people with MCS and hoped that removing the products will change the habits of some consumers. She added that their customers generally support these environmental initiatives.
Villy S¿rensen stated that he hoped other grocery chains will follow suit.
It can be added to this story that pesticides are closely controlled in Denmark, and they are not used against bugs by any of the supermarkets. American supermarkets have a lot to learn!
Sources

MCSinfo (a publication of the Danish MCS support group), November 2014, and personal correspondence with the editor.

www.eiwellspring.org